MONTY'S MAGGOT
Monty's Maggot have delighted dancers at festivals, ceilidh series and parties around the country. The major festivals and series we've played at include Sidmouth, Shrewsbury, Bromyard, Broadstairs, FolkEast, Wallingford Bunkfest, White Horse, Haddenham, Unicorn, oxfolk, Great Western, Meltdown and Knees Up Cecil Sharp.
Monty's Maggot brings together some of the best known players on the English dance music scene (from The Old Swan Band, Grand Union and Random) with some younger faces. Monty's Maggot features the driving fiddles of Flos Headford and Taz Tarry, Keith Holloway on guitar, Jeremy Tozer on melodeon, and Theresa Jones, Vicky Benjamin and Heather White on tenor and baritone saxes to underpin it all and round out the sound.
No other band has this blend of fiddle frenzy, melodeon with bite and bounce, rhythmic guitar, and the reedy, gutsy sound of tenor and baritone saxes —a vibrant and full wall of sound!
Captivating tunes are played with infectious rhythm, energy and lift which puts the beat just where you need it. This usually leads to spontaneous, involuntary and spirited dancing and toe-tapping!
Montage of Ceilidh Video Footage
Here's a montage of video with Monty's Maggot and caller Will Hall at the Knees Up Cecil Sharp!, Cecil Sharp House, London, 19 June 2015. The sound was recorded by our sound engineer Sam Jones at a rehearsal in Bridport at The Woodman Inn before one of Monty Crook's ceilidhs. The video was shot and edited by Stuart Barton.
We will shortly be getting into a proper recording studio; but there are some tracks on this website made at rehearsals which give an indication of what we sound like!
Why are we called Monty's Maggot?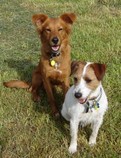 Many people ask why we're called Monty's Maggot. Maggot is old English meaning an eccentric or fanciful idea or whim; and the band was an idea hatched during a series of fiddle workshops that Flos and Jerry were running out of the wonderful White Horse pub in Moretonhampstead.
Monty is Jerry's Jack Russell who likes to sing while Jerry practises. Monty likes singing in E minor and it seemed natural to put Monty and Maggot together!
Monty has taught Jerry's other dog Sasha to sing as well.

Never Danced At An English Ceilidh Before?
You don't need to know how to dance; a caller will walk you through each dance immediately before it is played, and he'll call through it to keep you on track.
More Musicians and Callers
Tim Normanton (banjo) and Carl Allerfeldt (fiddle) join us occasionally and Ed Rennie, Nina Hansell, Ian Dedic, Dan Bones and Chris Bartram have guested or depped with us.
Well known callers that we have worked with at festivals and ceilidh series include Will Hall, Barry Goodman, Nick Walden, Gordon Potts, Fee Lock, Mary Panton, Sarah Clough, and Andy Rouse.
Shrewsbury Folk Festival